Everything is Energy and You are no Exception!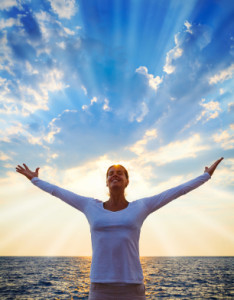 • Do you experience anxiety, insomnia or depression?
• Do you frequently experience overwhelm and brain-fog?
• Do you feel like everything is an effort?
• Would you like to feel more creative and inspired?
• Would you like to experience more vitality and better health overall?
All of these conditions are indicative of imbalances in the subtle energy body, and these imbalances are the result of stress, trauma, and the challenging pace of modern life. The good news is that with Energy Medicine you'll be empowered to shift your life experience from one of overwhelm and fatigue to vitality and joy by enrolling your subtle energies with simple exercises and postures.
Though you may have heard about chakras, meridians and the aura, most people haven't been taught about their subtle energy body and how to engage with it to improve their health. Energy Medicine is an ancient wisdom that's been lost in our high-tech, low-touch society, but it's the simplest, most accessible form of health care available to anyone. When you learn how to balance your own energies, you'll feel clarity, peace and vitality as your normal state of being.
If you attend to yourself and seek to come into your presence,
you will find exactly the right rhythm for your own life.
~ John O'Donohue, Anam Cara
Where do I begin?
Energy Medicine Now/ Janie Chandler offers classes, videos, and private sessions that will train you to strengthen your immunity, improve your clarity and focus, increase your vitality and joy, and become more responsive to life by engaging your subtle energies. Energy Medicine by Donna Eden and David Feinstein is an excellent book to learn about the subtle energies of the body and how a person can heal themselves with simple techniques. Videos found on our watch and shop pages make it easy to begin using the techniques at home. Classes of varying levels, for the lay-person and the professional, are taught by Janie Chandler (sometimes with her colleague Debra Burchard). See our classes page for current offerings.
Private Sessions will assess and address energies that are disorganized and creating imbalance in the energy body. These disorganized energies may be resulting in fatigue, overwhelm, illness, depression, and more. When the energies are rebalanced the physical experience improves, allowing clarity, peace and vitality to be the norm.  Contact Janie  or call 541-482-0413 to schedule an appointment today.