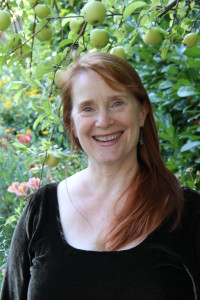 Janie Chandler LMT, followed a circuitous path to a career in holistic health. As a young girl, her hands often found themselves working on her family and friend's musculature. Early on she knew that working with people in a healing and transformational capacity would be her forte. Her formal education at Colorado University was focused on the liberal arts, mixed with a healthy dose of travel. In 1987 she graduated from the Boulder School of Massage Therapy. With her husband Joseph, she joined the team at the Colorado Chronic Pain Clinic and began her studies of Neuromuscular Therapy. Since 1999, Janie has studied and trained extensively with Donna Eden in her approach to Energy Medicine. She is an Advanced Eden Energy Medicine Practitioner, as well as a senior member of Donna's faculty, and currently serves as co-administrator of the Teaching Eden Energy Medicine (TEEM) program.
Janie feels that she stands in the center of a bridge between the shores of left-brain and right-brain, between science and creativity. A bridge between linear, therapeutic massage, and intuitive, expansive energy work. She has been dedicated to uniting these two seemingly opposite approaches to healing, and her unique blend of deep tissue therapy and energy work accesses healing on multiple levels. Her continuing studies of consciousness and spirit infuse every aspect of her life – in work and play, equally.
Janie shares a private practice with her husband Joseph, in Ashland Oregon. She sees clients in her office there, as well as via Skype. She often travels to teach her own work, as well as Donna Eden's work. Please visit the contact page or call 541-482-0413, to schedule an appointment or to invite her to teach in your area.