How long have you been a massage therapist and energy medicine practitioner?
I became a massage therapist back in 1987, so I've been working with people in a healing capacity since then. I began my career doing clinical, therapeutic, fix-it-up work with people who were suffering from acute and chronic pain. Then in 1999 I started studying energy medicine with Donna Eden. I'd always known there was more to our physical bodies besides flesh and blood and bone, and when I got savvy about subtle energies I felt like I'd hit the mother-load of information. I began to integrate EM theory and techniques into my massages, and these days my private practice runs along a spectrum from deep-tissue, therapeutic massage, to the more etheric, energy-focused session. I specialize in the middle of that spectrum, where I address a subtle energy system called the Radiant Circuits, through the fascia.
How long have you been teaching?
My husband Joseph and I were teaching neuromuscular therapy at the Ashland Institute of Massage as far back as 1996. After I'd been studying with Donna Eden for a couple of years, I became a teaching assistant for her, and when she launched the Eden Energy Medicine Certification Program in 2006 I was one of her founding faculty members. When I realized how much I love to teach, and how valuable this information is to people, I made a point of taking an intensive teacher training program so that I can be as effective a teacher as I can be. I love teaching lay people to work with their own energy as much as I love teaching Donna Eden's professional training programs.
How has energy medicine made a difference in your own life?
As a mother, wife, and massage therapist I was putting a lot of energy out, but feeling pretty bedraggled myself. When I learned about subtle energy and the simple techniques that balance those energies, and I began to use them on myself, the fog in my brain began to clear, the constant sense of overwhelm started to lift, and I began to feel more energy to do the fun stuff in life. My sensitivity to my own energies got fine tuned and I learned how to nip something in the bud as soon as I started feeling it – like my head getting foggy, a cold coming on, or me getting depressed or anxious.
So, do I need to see a practitioner to benefit from energy medicine, or can I do it for myself?
The beauty of energy medicine is that everyone – and I mean everyone – can engage their own energies to help themselves feel better and be more resilient in the face of stress and a toxic environment. You don't have to know everything about meridians or your aura to be able to positively affect them. I thrills me to no end to see how people light up when they discover this "secret" about themselves, and to see them begin to unfold into the vibrant life they want to be living.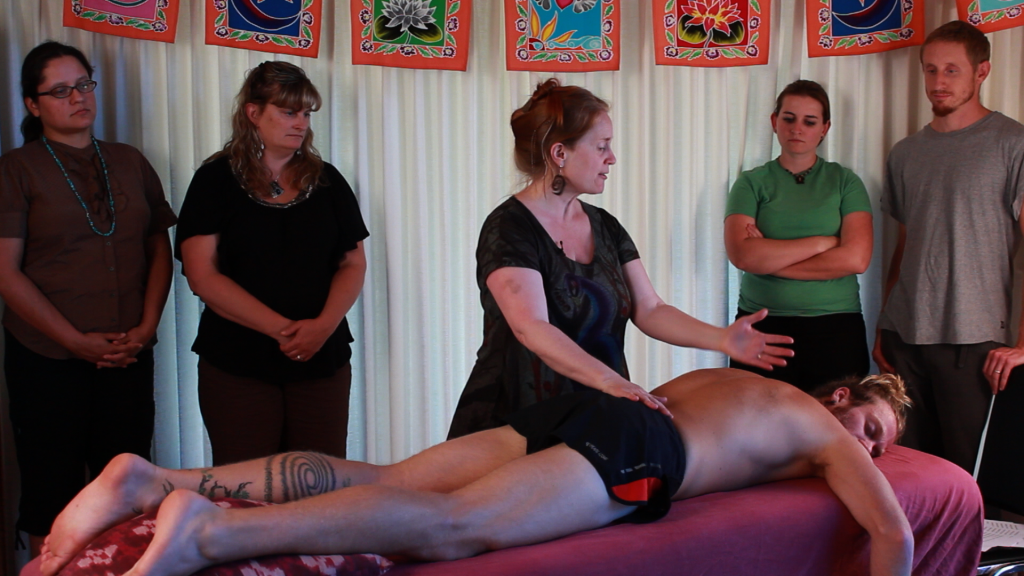 Can you tell me more about your specialized type of bodywork?
Well, I find (and many bodyworkers will tell you) that fascia is one of the greatest conductors of energy in our bodies. Fascia is a matrix of connective tissue that runs throughout the entire body with no beginning or end, no attachments or seams. When it is soft and open, the Radiant Circuit energy can move anywhere and everywhere it needs to go without restriction. Have you ever had a full body-rush of goosebumps? That's your Radiant Circuit energy in action. The work I call Radiant Circuit Illumination opens those channels and allows that energy to move freely. These energies are responsible for feelings of thrill, joy, wonder, and gratitude as they move through the body. So, a session of this work looks and feels like bodywork but the focus is on freeing up the subtle energy. I love teaching this work to energy practitioners and massage therapists. (Listen to Janie talk about this work in a radio interview on Voice America.)
How are you different from other "energy healers"?
I feel like the type of energy work that I offer and teach is incredibly down to earth and practical. It's not just about the energy, it's about the body. It's about fully inhabiting the body. What I've learned in the years of studying with Donna Eden is really comprehensive – nine energy systems and all of their influences and interactions – combined with my extensive training in therapeutic massage and my lifelong studies of consciousness and nutrition, makes my style of energy work feel safe, accessible, and as I said, practical for a lot of people.
Who can benefit from what you offer?
Mothers, wives, massage therapists, nurses, people who are doing a lot for others but who are not feeling light on their feet while doing it. People who are in helping professions who want to model a happy, healthy, vibrant life for their clients to aspire to. I also think that anyone who wants to intentionally contribute to raising the vibration of the planet will benefit from learning how energy influences everything, and how vital an influence we can be when our own energies are in balance.
What type of person do you work best with, and what is expected of me?
I love to work with people who know they have a lot more potential for joy and vitality than they are currently experiencing, and who are willing to do whatever it takes to up-level their experience. I am interested in working with people who are ready to step out of the same-old, same-old, and build new habits that will unlock the inherent health and creativity within them. We become bedraggled and lackluster through energetic habits that we've developed for whatever reason and then gotten stuck in, and it takes dedication to reprogram ourselves with habits that are more life-affirming. So I am interested in working with people who are ready and willing to make that shift, using energy medicine techniques, making dietary changes, and dedicating themselves to changing their minds as well as their bodies. The thing about this approach to well-being is that nobody else can do it for you – it's not as easy as going to the doctor for a pill. It's about self empowerment, and that takes self-responsibility.
I have a family and a busy life – although I really want to feel better I don't have much time to spare. How much time do I need?
This is such an important question. Modern life has us running all the time, and the irony is that when we make the commitment – when we place value on our health and happiness – we find that we have the energy, the clarity and the focus to get all the other "stuff" done in much less time, and with greater ease than when we're dragging butt. So I would say that to begin with, 15 minutes a day is all we're talking. Fifteen minutes to do the extended Daily Routine (found on The Visual Atlas or in Donna's book Energy Medicine). That's the bottom line (and some would say it takes less time than that). Once a person has integrated that into their lives I feel pretty confident that finding time to take a class, meditate or exercise will become a lot easier.
Is there some way that I can sample your work at low cost to see it it's the right solution for me?
There are lots of ways that you can begin to experience the kind of work I offer. When you sign-up on our mailing list we'll send you a free video and handout on Grounding – the most fundamental aspect of balancing your energies. You'll learn why Grounding is so important, and you'll learn a few simple techniques that can get you started. I have a number of videos already posted on the Watch page of my website that will give you a flavor of the work, or you can purchase the download of the Daily Routine from the website. A lot of people find The Visual Atlas of Energy Medicine a great resource as well. It's a gorgeous and comprehensive DVD that is very user friendly for the lay person as well as the committed energy medicine student.
What exactly is The Vibrant Life System, and what does it include?
The Vibrant Life System™ takes into account three components of being human – the Mental, Emotional and Physical aspects of being. We use the applied practices of consciousness, energy medicine and nutrition to bring these three aspects of ourselves into alignment so that they are all working together. There are seven steps to this process; Dedicate Yourself, Get Grounded, Clear the Fog, Chillax the Fight or Flight, Replenish the Yin, Strengthen Your Immunity and Help Others Do the Same. I teach this in a seven class format, once a week, three hours each.
What are the results I might expect from using your program?
Well, I would expect to feel a lot more vibrant! I know that I feel more ease, joy and clarity when I consistently practice what I preach. I feel a lot more inspiration and creativity and I am much more productive to boot.